Waste production grows hand in hand with the growth of goods production worldwide. Most of the waste generated ends up in landfills, and it pollutes the soil where our food grows, the water we drink, the sea and coasts. 
Waste disposal and its leakage in nature  affects, directly and indirectly, the wildlife, plant and animal species, biodiversity, and ultimately affects us, humans, in many ways. 
Whether we realize it or not,  we live in contaminated terrestrial and sea environments.  Seeing waste in public spaces is an ugly privilege of our generation, and it's time to do something about it!
For many decades, waste not recycled or composted has ended up in the landfill at Stavropeda. From time to time, the waste has been on fire, polluting the ground, the water tables, the sea, and the air.
Officially the landfill is no longer operating, and the area has been restored. However, more than 7 thousand tonnes per year of mixed waste are baled, packaged, and temporarily stored at this same location.
It is unknown how long this situation will continue, as no new landfill is designated yet. 
Much of this waste,  stacked at the landfill, can be recycled, composted, or reused. It does not all need to be there, and it shouldn't be.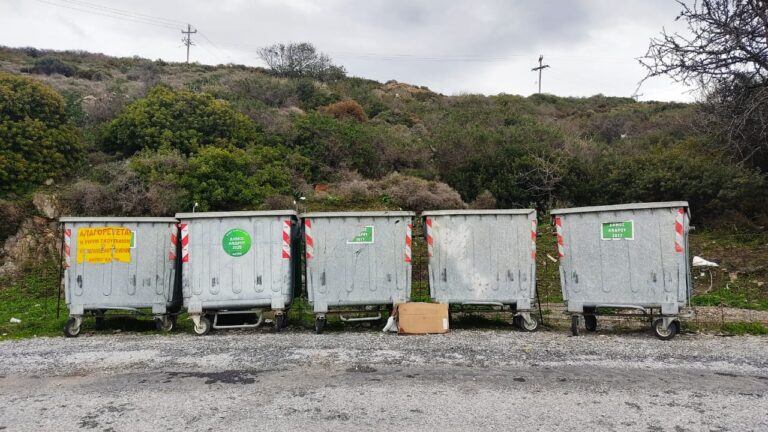 Waste Collection is messy and difficult. 
The general waste bins 
overflow, especially in the peak tourist season when the bins cannot cope with the volume
attract cats, rats and other animals
are often surrounded by large bulky items or builders rubble
have waste on the ground in unsightly piles
The famous Andros winds blow debris around into the valleys, rivers and seas
No one wants these bins near their home, but at the same time not too far away
Andros - a jewel in the Cyclades
Clean public spaces, like the port, the town centre, the parking lots, side roads, and streets.
Pristine beaches, lush vegetation, and flowing streams, and the light of Andros reflecting on the sea. 
The wind blowing the oak and maple leaves, traveling from the mountains to the valleys, bringing natural fragrances, cooling our bodies, and refreshing our beings.
No sign of waste, simply pure beauty…. just Andros.
Reducing waste is the best thing we can all do for our island
For everyone – living here permanently, seasonally, or just visiting. 
Imagine, for a few seconds – a Clean Green Andros. 
It's time to do something about it. 
Start now. 
Simple Solutions are here to help you.
Simple Solutions to help reduce waste
Just a few small changes
can make a big difference
Plan your meals
Arrange your food storage to use the older items first before they expire
Best Before Date is a guidelne . Understand the difference between use by and best before dates before throwing food away.
Avoid buying more food than you need, make frequent trips to the grocery store rather than a bulk shopping trip once a week.
Use less paper, magazines/newspapers are available online
Avoid coffee pods – instead use a French coffee press or stovetop Espresso maker
Choose products made from/with recyclable material
Buy unpackaged local produce
Support small local businesses who offer reduced packaging, & plastic
Ask – do I really need this?
Every refill makes
a difference
Bring your own coffee mug when buying a takeaway coffee
Use your bag more than once
Choose reusable containers
When building or renovating, consider recycled materials like doors or tiles. Saves money and adds character
Appreciate repurposed items: flower pots from oil cans, bags from old T-shirts, furniture made from pallets or driftwood, jewellery made from natural objects
Share items with friends – anything from tools, garden furniture, cars or clothes.
Buy second-hand: Consider furniture, kitchen devices, clothes, books & bicycles. refurbished devices, mobile phones/laptops (cheaper and have a warranty)
Donate your item to someone who may need it
Keep it simple
Say no thank you!
Say no to take away containers – Bring your own
Stop buying bottled water in plastic
Say no to plastic bags
Say no to tampons or sanitary towels and use menstrual cups
Say no to disposable diapers and wipes consider greener alternatives
Share more of your ideas with us – contact us
Contact your local stores and encourage change
Bring back to life
the things you love
Repair your furniture – ask for help or contact a specialist
Get sewing and repair those clothes
Some shops offer repair services
Ask family friends to help with repairs – they may have skills you did not know they had
Offer your skills to the community 
More simple ways to reduce waste
Spread the word
with your friends and relatives!
General Waste Bins - Summer Collection Schedule 
[ In other seasons, the service is less frequent and does not always follow this schedule.]
General waste bins are collected by the Municipality and transported to the temporary site at Stavropeda.