Does recycling work on Andros?
When we chat with friends, family and visitors, we sometimes ask, "Do you recycle? The answer is often, "But does recycling work here? There is sometimes rubbish in the recycling bins, they are often overflowing, I've even seen a dead goat in there!" or "I would recycle, but I don't know where it goes".
Yes, it's true – the bins are often full and overflowing. The waste is often blown around by the wind, and the bins have missing or broken lids. And the service does not always appear to be regular.
So, it may not look like it, but recycling does work
The recycling services on Andros have been operating continuously for almost ten years, apart from a few short breaks in service, operated by various subcontractors. 
In October 2021, the recycling service changed and recyclables are now being collected directly by the Municipality workers.
Please recycle, and with your help, the recycling system will improve.
We can all contribute. It's easy to recycle, so let's do our part.
Don't be discouraged if you find a full or overflowing bin. Your patience and persistence are needed to improve this situation.
We all play a role in how well the recycling systems function, and the content of the bins depends on our behaviour. So please continue to separate your recycling waste and dispose of it in the appropriate bin or location.
Ready to recycle? Use the right bin!
Recycling Bins and Special Recycling Locations
Recycling Bins
Bottle Caps, Batteries, Light Bulbs
Rubble and Bulky Items
Recycling Hut "Spitaki"
All kinds of glass bottles & jars  (without caps, moderately clean)
Paper and cardboard boxes (folded and flattened, without plastic coating, no sanitary items)
PET Plastic, all kinds of plastic Bottles and Containers (cosmetic, cleaning materials, food containers etc.), TetraPak, Aluminium, Tin Cans (moderately clean)
Green Metal Recycling Bins
Aluminium Packaging and Cans, Tin Cans (moderately clean)
Green Paper + Cardboard Recycling Bins
Paper and Cardboard Boxes (folded and flattened, without plastic coating, no sanitary items)
Green Plastic, Metal + TetraPak Recycling Bins
PET Plastic, all kinds of Plastic Bottles and Containers (Cosmetic, Cleaning Materials, Food Containers etc.), Aluminium, Tin Cans, TetraPaks (moderately clean)
Purple Clothes + Leather Recycling Bins
All kinds of clothes, textiles, shoes (in pairs), other leather objects (moderately clean)
White Containers for Electrical Devices
White Containers for Electrical Devices: The containers are usually locked, but you can leave your device next to them. 
Recycling Bins for Small Electrical Devices
All kinds of Smaller Electrical Devices.
All kinds of organic waste.
Plastic Bottle Caps - Recycle here
In many supermarkets or shops and some schools, there are containers for collecting plastic bottle caps.
Batteries - Recycle Here in these Bins
In many supermarkets and other shops, you can find special bins for collecting batteries.
Drop off locations for bulky recyclable items
Drop Off points in central  Gavrio and Korthi  for the disposal of large recyclable items such as cardboard boxes (not folded, metal objects, electrical appliances, car tires, bicycles, garden furniture.)
Drop Off point In Chora for cardboard boxes (not folded) and wooden boxes or crates
Drop off locations for bulky non-recyclable items
In Gavrio (behind the schools) you will find special points for mattresses, garden waste, wooden and metal objects. 
In Korthi, the drop off area is a truck for large non-recyclable items, e.g. mattresses, furniture, mirrors, glass windows, metal or wooden objects, garden waste.
If you want to dispose of a bulky waste item please contact the local municipality:
                   Monday – Friday 8-13.00
                  Chora: Tel. 2282360226 and 2282360228

                  Korthi: Tel. 2282360326 and 2282360320

                  Batsi: Tel. 2282041343 and 2282041855

                  Gavrio: Tel. 2282360117
Please don't leave rubble or other building waste in these locations. (See rubble information below).
Drop off locations for garden waste & wooden items
You can dispose of garden waste (eg large branches, large quantities of garden waste) in these special locations:
In Gavrio – located behind the schools.
Call Ms Tasia Bithikotsi in advance, 6987433083.
In Chora/Paraporti by the sports stadium.
Call Ms Fereniki Moraki, 2282360242.
In ​​the Korthi area, there is no drop off location.
Call Ms Eleni Maneta, 2282360320.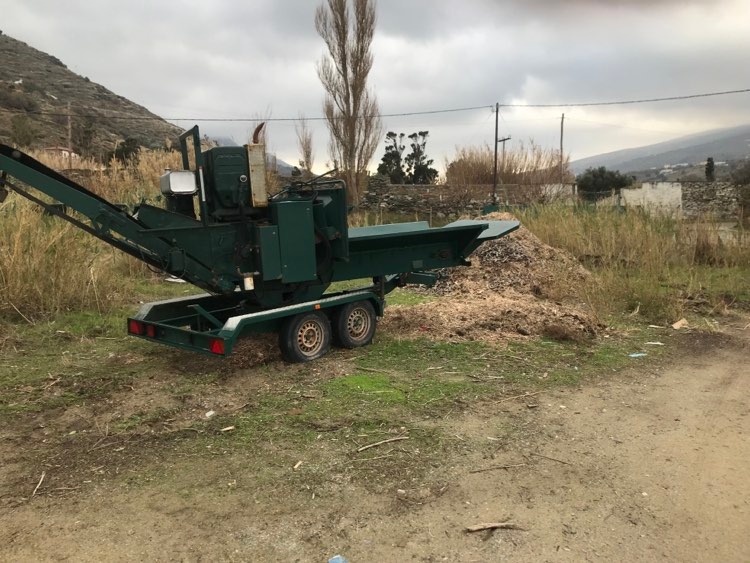 Drop off locations for rubble and other building waste
Rubble and other building materials (including tiles and sanitary ware), can be disposed of at the Recycling Unit for Rubble and other building waste (A.E.K.K.) in Kypri.

Contact Mr. Dimitris Petsas  for more information:
by email petsas.dimitrios@yahoo.com
or by telephone  6977369902.
Plastic bottles and containers
Glass bottles
Aluminium cans
Steel cans (moderately clean)
See where are the nearest recycling bins in your area
See here you can recycle certain product categories, such as batteries, electrical appliances or light bulbs.
Recycling Questions & Suggestions
Want to know how you can dispose of anything from A to Z?
Look in the A to Z Directory of Waste items.


Everything you need to know about recycling is on this page
Found a full recycling bin?
Please inform the appointed recycling official at the Municipality. Help improve the service.
Please don't throw your recyclables into the general waste bins. Find another bin or take your waste home.
Do you have a question or any suggestions regarding recycling?
Just let us know.


Recycling is one of the most important things you can do to reduce the amount of waste left on Andros.
More simple ways to reduce waste
Let's just do it together!
The initiative "Clean Green Andros" envisions Andros as the greenest and cleanest island in the Cyclades, a model of sustainable island for residents but also a model of sustainable tourist destination for its visitors.